Fresh Start is a Christian charity in Edinburgh which seeks to provide practical help to those resettling from homelessness into a new home in the community.
Currie Kirk members are involved in many different ways, the simplest of which is the collection of new and used household goods for 'Starter Packs' to go to each new home. So, if you're Spring cleaning, looking for a home for an unwanted gift or even moving house, don't dump it – donate it!
Crockery • Cutlery • Pots • Pans • Cooking Utensils • Kettles • Toasters • Basins • Buckets • Dust Pans & Brushes • Blankets • Bed Linen • Curtains • Towels • Children's Bedding • Mirrors • Clocks • Lamps • Light Bulbs • Soft Furnishings • Cleaning Materials • Toiletries (The full list can be seen here - please note we cannot accept rugs)
In fact, we can use anything that helps make a house a home! We need items that are in good working order and re-useable. Very often it is the simple things like toilet rolls, washing-up liquid, polish and other cleaning items that we can't get hold of. So, the next time you are doing your shopping, why not go for that 'buy one - get one free' offer and donate the spare item to someone who really needs it! Each month we try and concentrate on particular items.
Five members of the congregation are regularly involved. Jean Smith, Elizabeth Wood, Martin & Christine Wilson and Pat Howard make up bedding packs once a month. Elizabeth also unpacks donations and prepares items ready to be packed every two weeks. Currie Kirk members are very regular in their donations and always respond to appeals.
For further information please contact Christine Wilson on 0131-538-2567 or visit the Fresh Start website (this link will open in a new window).
THIS IS THE MOST UP TO DATE ITEM LIST FROM FRESH START FROM MARCH 2021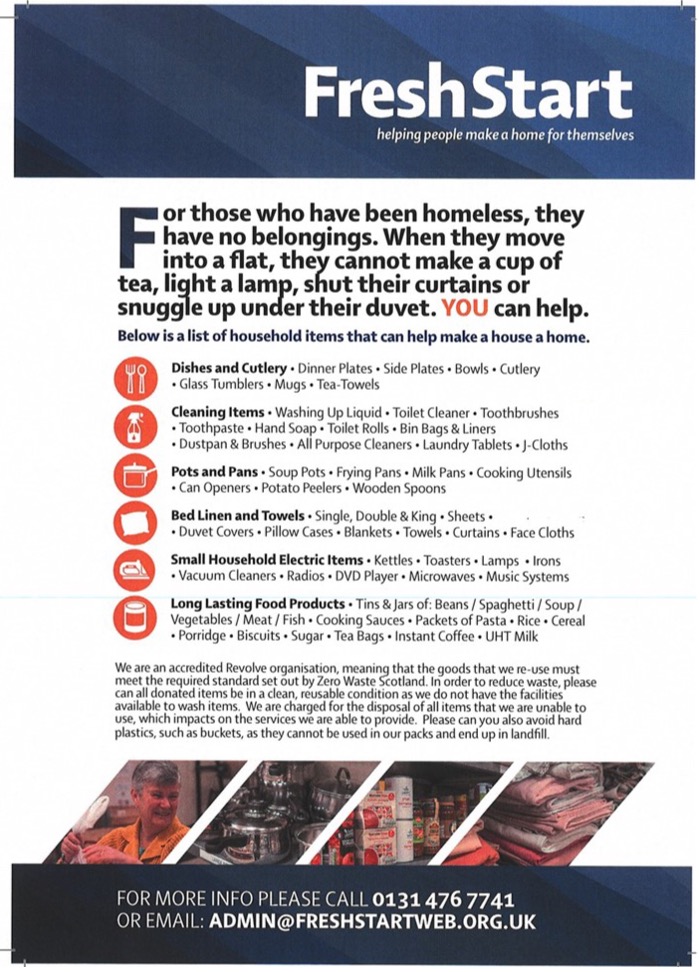 Return to Serving Others