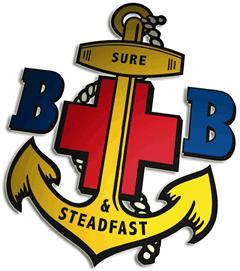 Our Boys' Brigade is a fun packed organisation for boys aged 6 - 18. It provides a wide variety of opportunities for boys in a Christian environment.
Anchors
The Anchors (P2 & P3) meet from 6pm - 7pm on a Thursday evening in the Gibson Craig Halls. They play loads of games, make crafts, stories, going on visits but most importantly it's about the boys having fun with their friends.
Juniors
The Juniors (P4-P6) meet on a Thursday evening from 7pm -8.30pm. They work towards a number of badges through activities including sport, games, art and crafts. The boys have the opportunity to go to Craggan, the Boys' Brigade outdoor centre at Loch Tay, for their annual camp.
More information can be found here (link will open in a new window).
Company Section
The Company Section (P7 - S6) meets on Sundays from 6.30pm to 8.30pm in the Gibson Craig Halls and the boys participate in a wide range of activities including cookery, film making, bicycle maintenance, pool, table tennis and various team games such as football and unihock.
For further information please email 65edinburghbb@gmail.com or click here to visit the 65th Edinburgh (Currie) Company Boys' Brigade website (link will open in a new window).